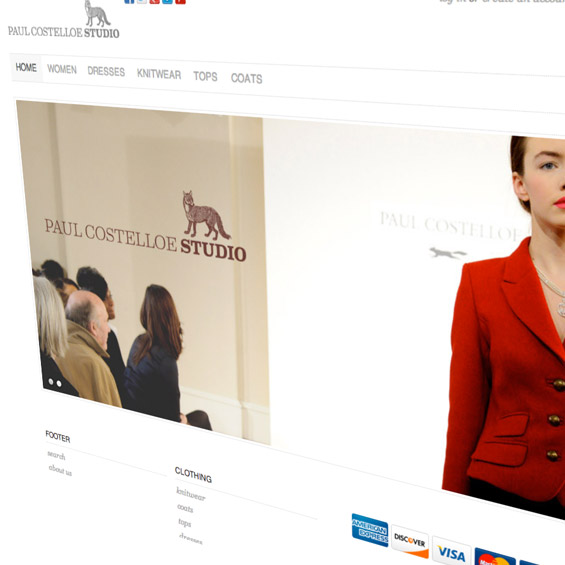 We developed a simple brand & web strategy for Paul Costelloe Studio, a new online store selling limited-edition ladieswear exclusively designed by Paul Costelloe.
Renowned as a fashion designer with a love of detail & fine tailoring, Paul Costelloe's range for women regularly opens London Fashion Week but, until now, it has not been possible to buy latest season's designs online.

The goal was to provide a retail outlet for exclusive designs without the cost of physical flagship stores and, importantly, to avoid a negative impact on high street stockists. Paul Costelloe Studio delivers this by only selling selected items online, enhancing the  brand through exclusivity without the risk of upsetting the sales through department stores and other stockists. It also leaves the way open for high-street retailers to continue selling online. The Paul Costelloe Studio sits comfortably in the label by bringing womenswear to the web to join menswear, jewellery & eyewear which already have their own dedicated online stores.
We ensured all the essential SEO is in place including structured data for the products and we will, as usual, be monitoring the situation through analytics.
Paul Costelloe Studio only exists only online and the micro-store offers a very select range of trousers, dresses, tops, jackets & knitwear that are only made in very small quantities. The runs of these exclusive designs are so short that, in some cases there might only be one of an item available to buy.
So far its been received very well and we look forward to the stores' success.